Memphis' Premier Choice
for Catering & Events
A Moveable Feast Catering – Memphis catering at its finest. We're dedicated to creating your perfect catered event. Specializing in wedding catering, corporate events, catered holiday gatherings or family occasion, we want to help you make your catered event as distinctive as it is delicious.
From catered cocktail buffets to seated wedding dinners, A Moveable Feast Catering will create a unique event experience to fit your style and taste.
What our clients are saying…
I want to thank all of you for your exceptional service to FedEx. You have been the most service oriented caterer we have ever used. Your ability to scale for our events has been critical. Rather it's for 6500 Memphis Hub employee Family Days or private executive dinners, your food and service has been stellar.
Mary G.
This group catered a funeral, celebration of life this past weekend and I'll tell you it was a gift to the family. Hog Wild took care of all the details during a time that families can't.
The food was plentiful, well presented and absolutely delicious. The menu item descriptions were also well marked so there was no guessing involved. I'm embarrassed to say I may have gone back for seconds. 
Because the celebration of life was at a private home I did note how attentive the staff was and what a relief it was to the hostess. The staff kept empty plates & drinks picked up, the food was maintained fresh and full.
 Need Catering? I would, without question, call them first.
Tammy
Incredible barbecue. They were at Live at the Garden last night, and I had probably the best BBQ Nachos I've ever had in my life. I thought I was crazy, but the guy behind me said he was coming back for seconds. I understand why.
Scott
We use Hog Wild for our corporate event catering. Excellent service and outstanding food. Top notch every time.
Kate
By far the best bbq for catering.. amazing people.
Sid
Catered a rehearsal dinner for us. Excellent! Food was incredible and the staff was amazing. I would highly recommend them.
Debra
I worked with Danielle to orchestrate my stepson's rehearsal dinner and not only did the meal delight, but she helped me to find a venue to accommodate almost 100 people, from 6 hours away in a town I had never seen. She was more than pleasant to work with, communicating with both myself, my stepson's mother and the mother of the bride (who toured venues for us), as well as the venues owner. If I ever am in need of a caterer in Memphis I will jump at the chance of choosing them again. Thanks so much for your part in a magical evening that won't soon be forgotten by our family.
Liz
The presentation, service, and quality of A Moveable Feast/ Hog Wild is unmatched in Memphis. Use them. Your guests will be thoroughly impressed.
Jason
They fed 455 hungry Seniors in a high school cafeteria. The food was delicious and plentiful and the presentation was beautiful; they even had signage with the GHS logo. Very efficient; very professional! We will use them again and again!
Martha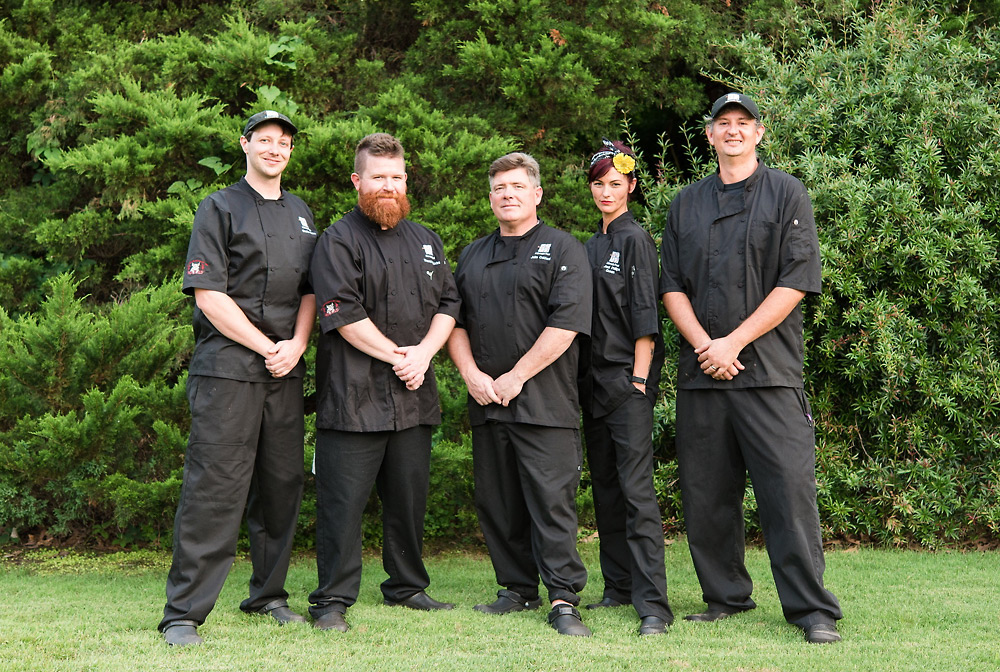 Memphis Catering at its Finest
We've been providing Memphis catering services in the greater Memphis area and throughout the Mid-south for 20 years. Gourmet food and upscale catering became a serious focus in 2001 when Hog Wild Catering developed a new gourmet division called A Moveable Feast (one company, two names). A Moveable Feast has delivered unique, innovative menus ever since. We cater a large variety of events… Weddings, Memphis Barbeques, Delta Catfish Fry, Cocktail Parties with Heavy Hors D'oeuvres, Bridal & Baby Showers, Engagement Parties and even Black-Tie Wild Game Dinners…we have done it all. We look forward to continued success in the years to come.
Contact Us
A Moveable Feast - Memphis Catering at Its Finest!
1291 Tully St.
Memphis, TN 38107
901-522-9453 (p)
901-522-9458 (f)